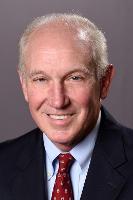 Webinar with Bob Scalise
Athletic Director will retire this June after 40 years of service to Harvard
Bob Scalise, Harvard's Director of Athletics who is retiring this June after over 40 years of service at Harvard, will speak at the gorgeous Belle Haven Club in Greenwich on Wednesday, May 13. Bob started his career by coaching men's lacrosse at Harvard in 1974. In 1976 he became the coach for Harvard's first women's soccer team. He earned his MBA from Harvard in 1989 and became Director of Athletics in 2002. In addition to focusing on learning through sports, Bob has worked tirelessly to promote a sense of community and school spirit at Harvard. Under his leadership Harvard teams have won 22 national championships and 144 Ivy League titles. He has helped steer Harvard to victory in 14 of the last 17 Harvard-Yale football games. He has modernized athletic facilities, strengthened mental health support for athletes, and greatly increased funding for women's sports, including forming Harvard's first women's rugby team two years ago.

WE ARE BRINGING THIS EVENT BACK BY LIVE VIDEO CONFERENCE! Bob is looking forward to a chance to meet with our club, and we are looking forward to seeing everyone! Date and time remain the same - Wednesday, May 13, at 6 pm. Register via the button below (no charge), and before the event, we will email you instructions for the Zoom dial-in.

N.B.: you do NOT need any special equipment for the video conference. Any standard smart phone, tablet, or computer with an included video camera will do.