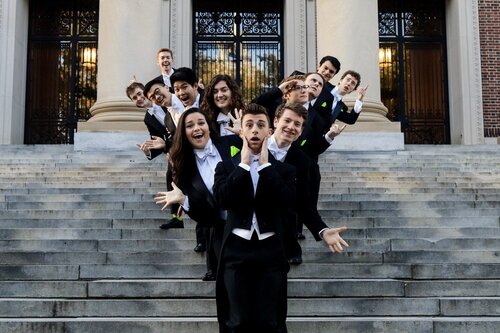 The Harvard Din & Tonics in Darien
A special Fairfield County visit for your Harvard Club.
We are pleased to welcome the Harvard Din & Tonics - the university's signature student jazz a cappella singing group - for a Sunday evening concert at the Country Club of Darien. As previewed at our tailgate party in New Haven in November, the Dins will be visiting Fairfield County especially to perform for the Harvard Club.

The Din and Tonics tour worldwide, performing jazz songs from the Great American Songbook, as well as pop, folk, calypso, and rock favorites. They have released 15 albums and are known for the hilarious antics they add to their performances. Traditionally an all-male, five-part group, they have recently added two female signers. Click HERE to hear Dins perform and read more about them.

Kicking off the a capella extravaganza will be a lead-in performance by Greens Farms Academy's Harbor Blues.

Sunday, January 26, 6 to 8 pm, at the Country Club of Darien. $30 for members of the Harvard Club of Faiffield County or the Harvard and Radcliffe Club of Westcehster County, as well as for guests registered by members; $30 for students; $35 all others. Includes antipasti. Cash bar separate.

If you were directed here by Greens Farms Academy and are having trouble registering for the event through the website, just email us, please, to arrange your registration offline: pammilun@aol.com; info@harvardcluboffc.org.